The Saaberie Chishty Youth Society derives its name from a Sufi Spiritual Order.
Named after its founder, the Muslim Saint Hazraat Saabir Paak (Sheikh Sayed Alauddin Ali-Ahmed Saabir R.A), whose tomb is situated at Kalyar Shareef Rurkie, Nothern India.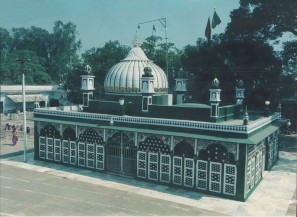 Piran Kaliyar Sharif, of Alauddin Sabir (Roorkee, India).
The Saabri Silsila is a major branch of the Chishtiya order that was spread in Asia by the famous Khwaja Gharibun-Nawaaz (Sheikh Sayed Muinuddin Hassan Sanjari R.A) whose shrine at Ajmer Shareef in Rajistaan India is the site of the second largest gathering of Muslims in the world, annually.
The commitment and dedication of it's members towards Almighty Allah through service to humanity, has blossomed into a society that operates in ten important services of our community contributing towards the achievement of an Islamic life.
Words cannot express our gratitude for the continued support of the public over the years. Your generosity has seen the growth from a single burial society into a multi-facet organisation which includes a welfare division providing for the destitute and needy, a madressa for the promotion of Islamic education, a masjid that promotes the true Islamic way of life, a research council that promotes understanding and Knowledge of the Ahle Sunnat Wa Jamaat, a Zia-ul-Uloom (an institute for higher Islamic Education) preparing future Huffaz and Ulama, and an Ambulance service that is on call 24 hours of the day for all the people of Lenasia and surrounding areas.
Sayed Osman – President
Abbas Sayed – Chairman

Muhammad Ali Bhikhan – Secretary
Abdool Hamid Rahiman – Joint Secretary
Mohammed Anwar Khan – Treasurer
Sayed Mohammed




Sayed Abdullah




Moulana Sayed Yusuf




Sayed Hassen




Sayed Aboobaker

Habib Reshaad




Khan Aynullah
Mohammed Iqbal Kader




Sayed Ally




Choonara Basheer




Sayed Ghulam Fareed




Sayed Mohammed Riyaz

Deedat Ebrahim




Bhikhan Muhammad Ameen




Sayed Ismail




Charfaray Irshaad
History of the Saaberie Chishty Youth Society

In Lenasia, the Asian-dominated suburb of Johannesburg, few can say that they have not heard of the Sayed Brothers.
Almost everyone with out reservation will say: "they do great work"
Great work indeed! The Sayed's have served the community with love and dedication since the old "Fietas" (Vrededorp) days. In the early 1940's their grandmother known as Begum Aapa was involved in community welfare and today they are merely continuing what she first initiated.
Today the family forms the backbone of the lauded Saaberie Chishty Youth Society, with its various divisions: Saaberie Chishty Urs Committee, Saaberie Chisty Muslim Burial Society, Saaberie Chishty Welfare Society, Saaberie Chishty Ambulance Society Saaberie Chisty Masjid and Madressa, Saaberie Chishty Zia-ul-uloom, Saaberie Chishty Qurbani Relief, Saaberie Chishty Islamic Research Council, Saaberie Chishty Operation Winter Warm Campaign.
But the brothers, Osman, Abbas, Shabier, Abdullah, Mohammed and Moulana Yusuf owe their success almost entirely to their late parents. Marhoom Sayed Ally and Marhooma Ayesha Bibi (may Allah grant them Jannat) brought up their six sons and five daughters to fend for themselves since childhood. Against hard times and failing health, Sayed Ally battled financially, but still managed to remember the poor in his community.
Sayed Ally had unshakeable belief in the Aulia-Allah (friends of Allah) or saints. In particular the saint of Kalyar, Hazrat Saabir Paak (R.A), commanded his highest devotion. With his brother Hussein Sayed (the current President of Saaberie Chishty) they formed the Saaberie Group of Lenasia in 1961 with an opening bank balance of £4.8s (four pounds and eight shillings). The driving force behind the group was one Suleiman Asmal better known as Surtee Chacha. Surtee Chacha was a tireless community worker whose mystical personality touched the lives of all who knew him. Also a staunch devotee of the Saint of Kalyar, he served as a pioneer of Islam in Lenasia. Surtee Chacha would lay down his life to see the completion of any such project – so long it was devoted to Hazrat Saabir Paak! (The Sabri Mosque in Rose Avenue, Lenasia bears testimony.)
Another stalwart of the group Ahmed Adam Jogee fondly referred to as Jogee Chacha, played an active role in Saaberie Chishty Youth Society. Jogee Chacha was well known to the community for assisting them with ghusal at the time of death in our family. Marhoom Jogee Chacha, Late Uncles Omar Sayed, Abdul Rahim Sayed, Samad Patela, were tireless campaigners during the struggle. They too had contributed to the Society's monumental service to the community and the current success of the organisation owes them more than just a casual mention. Today we salute people like Sayed Ally who sacrificed health and wealth to pursue the path of charity and welfare. Without examples set by Sayed Ally to his children, the community would have been poorer today. There would not have been a Saaberie Chishty Youth Society.
The Sayed Brothers acknowledge and never forgets to appreciate the involvement, commitment and sacrifices of members of the family, friends and other freelancers who voluntarily rendered support and services to the society. Today the 9 surviving brothers and sisters of the Sayed Family, the new generations, friends, colleagues and volunteers are destined to carry on with this marvellous tradition of wholehearted community service.
Founding members who worked with the Late Sayed Ally:
Late Mohammed Kola, Late Haybhai Choonara, Late Dawood Azad, Late Dawood Jamal, Late Goolam Rasool (Uncle GR) Late Goolam Nabee, Late Moosa Vallee (PTA), Saleh Patel, Suliman Omarjee (PTA).
- Jazakallah -